Dining in Baltimore
Discover local dining in Baltimore at over 60 restaurants within walking distance of the Admiral Fell Inn! A blossoming foodie scene, dine at a variety of restaurants in the area with fresh seafood, five-course meals, and lively pub grub. Known for its signature Old Bay flavors, crab is a must during your stay at our hotel. Stay right by the Inner Harbor and explore no shortage of places to eat in Baltimore, MD.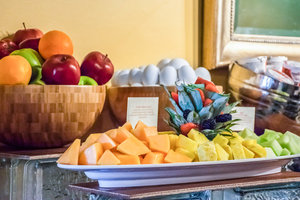 Breakfast in the Stone Room
Each morning begins with our signature fresh breakfast, served in the Stone Room before your day of sightseeing or business meetings.
Admiral's Breakfast: A European-style continental breakfast served on weekdays for $9.95 per person.
Admiral's Brunch: A delicious brunch with a waffle bar and omelet station served on weekends for $15.95 per person.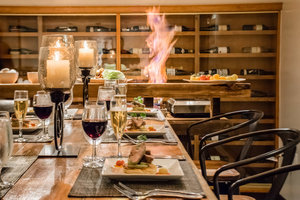 Our Tavern and Restaurant
Enjoy brunch, lunch, dinner, and Happy Hour drinks right at the Admiral Fell Inn's restaurants.
Duck Duck Goose: An upscale French bistro with small plates and time-honored cooking methods.
Tavern at the Admiral: Cocktail mixology bar with secret recipes and local pours.
All in-room catering is provided by Duck Duck Goose.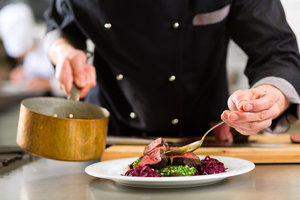 Meet the Chef
Executive Chef Rob Simon oversees the culinary efforts of our three properties: Admiral Fell Inn, Pier 5 Hotel, and Inn at Henderson Wharf. This includes the preparation of menus, developing pricing, and cooking for a variety of events.
Simon says the day-to-day interaction with guests is the most rewarding part of his job. He continuously strives to bring his love of food to every plate he prepares.
Local Recommendations
Interested in waterfront dining in Baltimore, downtown steakhouses, and our favorite oyster bars? Here are some of our top recommendations in the neighborhood.
Enjoy some of the best dining in Baltimore just steps from your door when you stay in one of our European-style historic rooms at the Admiral Fell Inn!