Anchor Bar

Sip long-forgotten recipes, traditional spirits, and local beer and wines at the Anchor Bar, the Admiral Fell Inn's bar located downstairs. Hidden from public view, our charming bar is a well-known secret in the neighborhood and a Fell's Point favorite. Rumored to have been haunted, the Admiral Fell Inn boasts a fascinating history since its time as a sailor's boarding house in 1900. Join us for a ghost tour and drink at the Tavern, one of our guests' favorite amenities of the inn!
Bar Hours:
Mon – Fri: 5PM-2AM
Sat – Sun: 12PM-2AM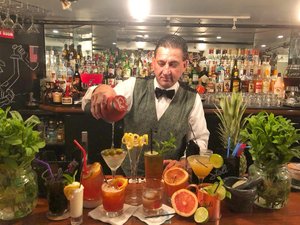 Signature Drinks
Order a classic cocktail at our historic inn's mixology bar! Along with the architecture of our building, the Anchor Bar has carefully preserved signature recipes throughout the centuries.
Enjoy a freshly shaken 1812 Cocktail, or something stronger like a Fort McHenry or Edward Fell. Each of our dessert drinks and strong libations is made with spirits from around the world, thanks to our location adjacent to the seaport.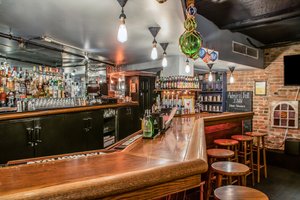 Anchor Bar's History
Enjoy a taste of history during your evening at the Anchor Bar. The Admiral Fell Inn was named in honor of the colonel that founded Fell's Point and was previously home to a livery stable, ships chandlery, vinegar bottling, and a hospice for sailors.
Chat with one of our bartenders or on-site historians to learn more about the building's history and the Anchor Bar.
Stop by the Admiral Fell Inn bar, the Tavern at the Admiral, for a drink at the end of your day of Baltimore adventures!