Admiral Fell Inn's History
The Admiral Fell Inn is a beautiful waterfront hotel in Baltimore, Maryland, and the building has retained many historic charms over centuries past. We encourage guests to take one of our evening walking tours for anecdotes and details about our carefully-preserved architectural details. Step back in time to discover the history of our elegant Inn!
1730 - A Busy Seaport
The Fell family, Quakers from Lancaster, England, founded Fell's Point in 1730, and developed it into a major shipbuilding center, as well as a busy deep-water seaport for importing and exporting. Throughout the 18th and 19th centuries, Fell's Point was bustling with exports of Maryland tobacco and grain and imports from Europe and the West Indies.
1900 - A Safe Haven
Fell's Point became a rough district full of sailors, saloons, and brothels. The Port Mission opened a Christian boarding house and recreational center named, "The Anchorage." This building is the central structure of Admiral Fell Inn. Seamen enjoyed a safe night's sleep after a mandatory delousing. The Anchorage became popular and expanded to the boarding houses connected to it.
1929 - A New Beginning
The YMCA took over The Anchorage and expanded it to a 105-room Seaman's YMCA. The rooms were so small that it was commonly referred to as "the doghouse". The Seaman's YMCA provided lodging for 50,000 sailors a year and operated until 1955. New tenants subsequently occupied the buildings. The last was Vinegar Works bottling factory. It closed in the 1970s.

1985 - Renovations
The Anchorage was renovated and reopened as a 38-room bed and breakfast called The Admiral Fell Inn.
1996 - Upgrades and Expansions
Admiral Fell Inn expanded to an 80-room hotel with rooftop event space, as well as furnishings and aesthetics that reflect the 18th-century era from which it arose.
Today - A Charming Getaway
Admiral Fell Inn is an internationally acclaimed hotel offering intimate elegance amidst a bustling waterfront community. Guests enjoy boutique-style accommodations and a convenient location close to popular Fell's Point dining and entertainment. We are proud members of Harbor Magic Hotels.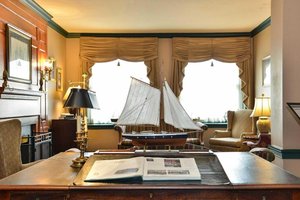 Destination Fee
What is included in the daily Destination Fee? For a daily fee of $9.95, guests of the Admiral Fell Inn have access to a number of amenities and services. Access to the state-of-the-art Maryland Athletic Club facilities and classes High-speed Wi-Fi across our property Shuttle service from the Inner Harbor to John Hopkins Access to our Signature Events Morning co